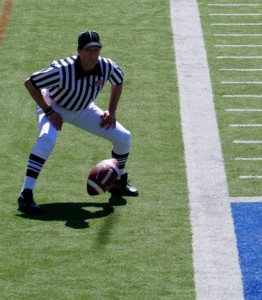 On Saturday night, the Stanford Cardinal, ranked at the time no. 13 in the nation, upset the no. 1 ranked Oregon Ducks 17-14 in overtime. The loss probably took away any chance for the Ducks to play for the national championship. If that was not enough to jumble up the national title picture, the Kansas State Wildcats also lost to Baylor, making for even more of a scrambled title mix.
However, going back to the Oregon loss, most if not all Oregon supporters, players and coach will tell you they were beaten not by the Stanford Cardinal, but by the officials. With less than two minutes left in regulation, Stanford benefitted from the officials reversal of a touchdown call. The reversal tied the game and is what eventually sent it to overtime, where the Cardinal won.
Stanford was on the Oregon 10-yard line with a first and goal situation with only 1:45 on the clock. The Ducks were ahead 14-7. Kevin Hogan the Stanford quarterback threw a pass into the end zone and officials originally called the pass incomplete. The ball was caught and bobbled and then the receiver hit the end line. Nevertheless, the play was reviewed and officials reversed the call awarding Stanford a touchdown.
Many feel the call should not have been reversed because there was not clear evidence one way or the other if the pass was completed. The video replay official should not have made that call overruling the on field officials. With some many people with some many different opinions on the call, it usually means the video evidence was not sufficient to make a change.