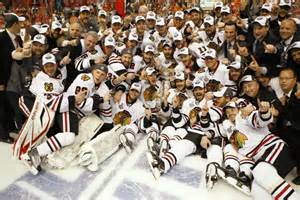 On a sticky humid night in Boston, Massachusetts, the Chicago Blackhawks defeated the Boston Bruins in game 6 of their best of seven Stanley Cup finals to win the series 4-2 and lift the Stanley Cup as the NHL Champions for 2012-13.
The Bruins took an early first period lead in the game 1-0 thanks to a goal by Chris Kelly. Chicago tied the game in the second period on a goal by captain Jonathan Toews.
Most of the third period was scoreless until Boston's Milan Lucic controlled a rolling puck in front of the Chicago net and blasted a shot off the goal post past Chicago's goalie Corey Crawford for the go-ahead goal.
Boston had just over four minutes to hold on to the lead and force a game 7 back in Chicago. However, that was not to be as Chicago pushed forward on the ice and with just less than 1:20 to play scored the tying goal.
Blackhawks captain Toews made a great pass in the goal crease in front of Boston goalie Tuukka Rask to Bryan Bickell who wristed a shot between the legs of Rask to tie the score.
It looked as though both teams were ready to skate out the last minute of play and go to overtime, but Chicago had other thoughts.
The Blackhawks sent the puck in and were able to score the eventual winning goal with just 58 second left in regulation.
Chicago scored one goal in the first 58 plus minutes of the game, and David Bolland scored two within 17 seconds to win their second Stanley Cup in four seasons.
Chicago owned the best record during the regular season, after opening with a 24-game unbeaten streak and was ranked No. 1 entering the playoffs.
Boston was ranked no. 4 in the Eastern Conference entering the postseason.