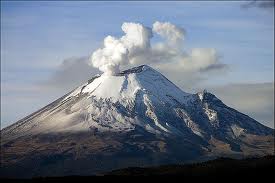 Because of the rumbling taking place at the Popocatepetl volcano south of Mexico City, government officials increased the alert level. The level is at the fifth level of seven in the warning scale. Inside the volcanoes crater, a lava dome has formed and is growing said the National Disaster Prevention Center. The volcano is 17, 886 feet in height. It has been spewing incandescent rock along with ash and water vapor.
The center released a statement that said, "Significant explosions that increase in intensity could take place inside the volcano that can hurl rocks to significant altitudes, with the possibility of lava flows, mud flows and ash showers."
All visitors have been restricted from entering the area and everyone was urged to remain a minimum of seven miles from the volcano's crater. The volcano is only 40 miles to the southeast of the capital city of Mexico City. As ash showers take place, people were reminded to clear the ash from rooftops as it could accumulate and crush weak rooftops.
The volcano is known locally as El Popo and its most violent eruption of all time took place on December 18, 2000. The explosion sent red-hot rock into the air and forced thousands to evacuate from their homes at the base of the volcano.
The volcano is located where three states of Mexico meet – Morelos, Puebla and Mexico – and has been erupting on and off since 1994. Often times it has covered neighboring cities in a coating of black ash, causing traffic jams and drainage problems.