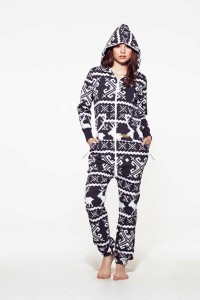 There are some fashion trends you just can't escape, and the 'onesie' is one of them. They're everywhere: designer boutiques, high-street stores, online retailers, eBay, Gumtree, reality TV, magazines, music videos… The thing with trends-that-are-everywhere is, the fact they're mainstream puts some people off all together. If you're yet to own an all-in-one suit for this very reason, this article is for you. Having just bought my own onesie, following much hesitation, the reasons to embrace one are finally clear!
The reality is you've probably worn a onesie before. In fact, you definitely have – a babygrow. These teeny romper suits are from which the adult onesie originated. Famed for their comfort and convenience, babygrows remove the need for: uncomfortable waist bands, socks that instantly fall off and cardis that get ruched up behind their back. They keep little ones warm and toasty too. If you've been putting a onesie off for its aesthetics, it's time to put practicality at the top of your clothing priorities. When you've discovered the comfort and ease of a onesie, you won't go back anytime soon. I'm not saying you'll want to wear your onesie out down the supermarket – although I've seen that a few too many times – but for days when you just want to unwind or get things done around the house, it's perfect. When it's chilly inside, you can cut down on the central heating, forget about slippers and simply zip yourself in! My onesie, which is from New Look, even has a hood to keep my whole head cosy when I snuggle up in front of the TV. When the winter hits, the onesie is an ideal all-in-one pyjama too.
When you love fashion, picking a fascinating every day outfit can be challenging. Some days even the most style conscious want to cover up and hide indoors, make-up free and in total 'slouch' mood. This is where the onesie really comes into its own. You don't have to pick out any other clothes (except underwear, although even that's optional). The shape of the onesie may not be the most flattering, but the patterns and prints that are now available makes it hard to say they can't be appealing. There really is something for everyone; from Aztec patterns and flirty florals to macho sports inspired designs with slogan prints.
Before buying my own onesie, I had to respect their purpose in the student scene, where they appear almost obligatory. The onesie is the easiest way to attend a fancy dress party, particularly if there's an animal theme, or just any social occasion where comfort and a good sense of humour are required.
If you can't bare to embrace the onesie for yourself, the chances are that someone close to you would really quite like to be gift with this casual wear trend instead! They do make a fun gift, although can be surprisingly costly.
Ultimately life's too short not to embrace the onesie. Yes, it's a super silly fashion fad, but being designed for relaxation and good times – a onesie is always a nice item to own.