McDonald's Corp, the world's biggest restaurant chain, reported its sales at stores open at least 13 months gained 1.9 percent last month. This was above the estimates made by analysts. The increase was attributed to the demand in Europe.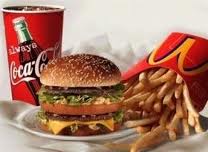 Analysts forecasted a 0.3 percent gain according to the average estimates from Consensus Metrix. Same store sales increased 3.3 percent in Europe, which was the largest gain since June 2012. Analysts called for a drop of 0.1 percent.
McDonald's got around 40 percent of its revenue from European nations. It attracted customers in Russia and France. The fast food chain also benefited from the introduction of blended ice beverages in the UK. Economic confidence in the euro area increased to a two year high last month as the currency bloc's recovery got momentum after it rebounded from the recession.
Same store sales were positive last month after it dropped in July in France, which was McDonald's second biggest European market after Germany. The fast food chain has more than 1,200 locations in France and has been promoting combo meals that included a Big Tasty burger with Emmental cheese in order to attract French consumers.
McDonald's shares increased 0.5 percent to $96.89 at the close of trading in New York. The company has gained 9.8 percent so far this year, while Standard & Poor's 500 Restaurants Index went up 18 percent.
Same store sales went up 0.2 percent in the United States, which was below the 0.8 percent gain estimated by analysts. McDonald's has faced tough consumer environment in the US as it tried to attract American consumers with new items such as chicken wings, egg-white breakfast sandwiches, and different flavored Quarter Pounder burgers.
McDonald's has been trying out a new Dollar Menu that has items priced as much as $5 in five markets across the nation. The fast food chain has faced pressure from domestic store owners who have met to talk about higher costs that included rents and the hard economics of the Dollar Menu.