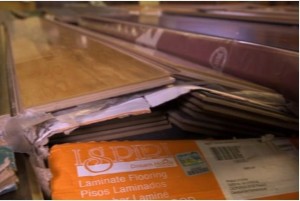 Lumber Liquidators shares started to plummet following a 60 Minutes report that the laminate flooring made by the company in China might not meet safety and health standards in California.
Trading has since been halted on the stock. The report by 60 Minutes aired on Sunday night and said that the laminate flooring that the company makes in China contained high formaldehyde levels.
Formaldehyde is a carcinogen. Boxes of the flooring were purchased from a number of retailers with stores in California, including Lumber Liquidators and they were sent to three labs for testing. The report on Sunday night said the labs found laminate flooring made in the U.S. from Lumber Liquidators had acceptable formaldehyde levels, but every sample from the Lumber Liquidators Chinese made flooring failed to meet the emissions standards for formaldehyde in California.
In addition, the CBS news show purchased 31 boxes of laminate flooring from Lumber Liquidators made in China at stores in New York, Illinois, Texas, Florida and Virginia and had them tested.
The reports said the testing done at two certified labs showed only one of the 31 samples of laminate flooring made in China was compliant with formaldehyde standards for California.
While it is legal for formaldehyde to be in flooring, the report by 60 Minutes said that strict standards exist in California for the amount of the carcinogen can be emitted from the core boards of the laminate flooring.
Tom Sullivan the chairman and founder of Lumber Liquidators said during a 60 Minutes interview that the company by law, is not required to test the finished product like was done by 60 Minutes.
Last week the stock for Lumber Liquidators also declined after its CEO and President Robert Lynch said in a conference call that the company believed that 60 Minutes would be featuring the company in a report that was unfavorable for them regarding product quality and sourcing. Lynch at the time said the company would vigorously challenge all false allegations or presentations that were factually incorrect. Shares fell by over 22% on Monday before the market opened.