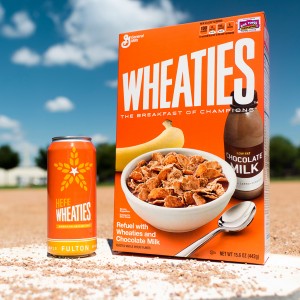 General Mills will partner with Fulton a microbrewery in Minneapolis to launch a limited edition, wheat, German-styled beer HefeWheaties that will look to capitalize the iconic brand of the food giant.
Wheaties are not ingredients in the new beer but its label will mimic the usual orange Wheaties box although without the signature photo of an athlete on the front.
The collaboration of Fulton and General Mills grew from the fact a few of the founders of the microbrewery also worked at General Mills, which is headquartered in Minnesota's Twin Cities.
This was a real partnership between Fulton and Wheaties, wrote marketing manager David Oehler of Wheaties.
Fulton will use the wheat for the new brew from the same grain supplier in-state that it used to make its other 20 beers, which includes one called Insurrection and Lonely Blond. Fulton will produce a limited edition run of the new HefeWheaties that will be available only in a tall boy 16 oz can later in August.
Market data indicated that the most ardent clients of craft beers are between 25 and 34 years of age. Linking a small limited edition to a popular brand that dates back to before WWII could raise the visibility of Wheaties amongst the younger consumer.
Fulton, which has tap room and a separate facility for production was founded back in 2009 and has had an exponential growth in business. This year the company is hoping to reach 25,000 barrels for the year.
According to the website of the microbrewery, the founders began as a home brewing operation in just a garage in South Minneapolis. Today the company has 40 employees.
Market analysts said the microbrewery and craft beer movement has helped the beer industry, which lost market share as the drinking tastes in the nation shifted away from beer and ales toward wines and other beverages with alcohol.
According to one beverage analyst, sales of craft beers had doubled between 2007 and 2012, and are slated to triple before 2017.