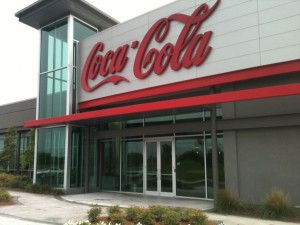 Despite higher volume sales,The Coca-Cola Company reported that revenue was lower than predicted by Wall Street for the third quarter. Revenue fell to $11.4 billion, a 4.6 percent decline from the same quarter a year ago. Analysts had expected revenue of $11.58 billion for the quarter.
Earnings on a reported basis declined 31 percent, dropping to $1.4 billion, or 33 cents a share. In the same quarter last year, earnings were $2.1 billion, or 48 cents a share. After excluding certain one time expenses, Coca-Cola earned 51 cents a share. That was about 1 cent over what analysts expected.
Volume sales grew in the quarter. Sales of Coca-Cola grew 1 percent and sales of Coke Zero grew 8 percent, but sales of Diet Coke fell 8 percent. Carbonated soda is still Coca-Cola's biggest business. Nearly three-quarters of the company's global sales volume came from carbonated drinks last year.
However, sales of uncarbonated beverages, like bottled waters and teas, grew roughly three times more than sales of carbonated beverages. Non-carbonated drinks rose 6 percent globally while carbonated drinks rose 2 percent. Roughly 70 percent of the company's growth came from non-carbonated drinks in 2014.
For years, people in the U.S. have been moving away from soda. The growing number of options in the beverage aisle allows them to choose beverages that they perceive to be healthier than soda. Concerns include whether soda is responsible for making people fat and whether artificial sweeteners are harmful to the body. The company has been raising prices and reducing package sizes to increase revenue.
Chief Executive Officer Muhtar Kent has been working to counter the declining interest in soda with a plan to reduce annual expenses by $3 billion in the coming years. These savings would be realized through eliminating jobs and boosting productivity. Some of the savings from Coca-Cola's cost cuts will be reinvested into new marketing.