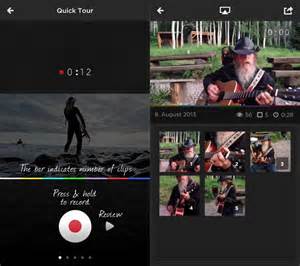 The people who founded YouTube are taking on Instagram and Vine with their own video sharing and stitching app. The new app, MixBit, is free and debuted on Thursday. For users of iOS the app is available on the Apple's App store, while the version for Android will be available over the next few weeks.
MixBit increases the social aspect of taking short video clips as it lets them be stitched together from separate users to create a longer video production.
As it is highlighted in the description in the app, you are able to record, edit and then publish videos that are one second long up to one hour long, all from your handset.
Each individual video clip shot can be up to 16 seconds, while Instagram allows for as long as 15 seconds and Vine restricts its users to only 6 seconds. Each video can contain up to 256 clips.
The video can be edited by deleting or moving each clip from the mobile device. When the video is completed, it can be saved or published to the MixBit Web site, which should be up and running by Thursday afternoon.
Social interaction comes into play when you freely borrow different clip from other users of MixBit to add to your video and vice versa.
Because of this, no foreign footage has to be shot, as you can remix the different clips contributed by the community to make them new and unique.
MixBit is served up by Avos Systems, the digital media group and is Steve Chen and Chad Hurley's brainchild. The two are YouTube co-founders.
Hurley says the idea behind MixBit is to have content reused within the overall system.