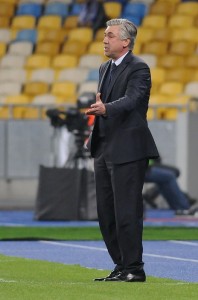 On Wednesday of this week Gareth Bale returned to full training for Real Madrid and looked likely to at least be chosen to sit on Carlo Ancelotti's bench as a possibly substitute for this weekend's match.
Ancelotti agreed to comments made by Florentino Perez the president of Real that dismissed a recent report in a Spain daily that said the former player at Tottenham had a slipped disc, which needed to be operated on.
Ancelotti said on Friday the story came as a surprise since it was not true. Bale, said his manager, does not have any problem, it was just he had little pre-season workout and is still not completely fit.
Ancelotti told reporters that if Bale had been suffering from a slipped disc it would have been nearly impossible to play more than 100 matches the past four seasons.
Bale is now available said his manager for part of a match or the entire match and we need him to play.
Iker Casillas, the goalkeeper and captain for Real said during the week he could leave in January if he continues to sit on the bench. Ancelotti said he does not have issues with Casillas, calling the captain a great keeper and professional.
The manager said that Casillas continued to act as the captain of the club even though he played limited matches. He said he wanted to speak with his captain so he would better understand what was taking place, but in a private conversation.
The match against Malaga starts an important week at Madrid. On Wednesday, Juventus arrives at the Bernabeu for a Champions League match and then the first clasico this season is the following Saturday.
Let see if Real Madrid will improve in this coming match as we know they went wrong in the previous match.  Well, it is like betting on lotteries, we will never know which combination of numbers would come out.