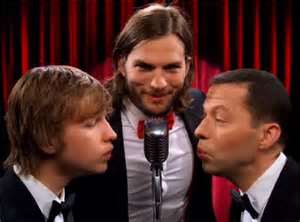 Hollywood actress Demi Moore filed a set of divorce papers Thursday in a courtroom in Los Angeles. Her divorce papers seek alimony payment from her estranged husband, actor Ashton Kutcher. The actor is starring in Two and a Half Men, the hit comedy on CBS. Kutcher filed his own set of divorce papers in December of last year after the couple had been legally separated for more than 12 months.
Both Moore and Kutcher stated in separate divorce papers that the reason for the divorce was irreconcilable differences. Moore, who is 50, was one of Hollywood's highest paid female actors during the 1990s. Because of that, many are surprised that she has requested alimony payments from Kutcher. Her papers filed on Thursday did not give a specific amount of she was seeking.
Kutcher, on the other hand, did not request that Moore pay alimony in his papers and did not deny financial support to Moore. Forbes magazine has estimated that Kutcher, who is 35, earned over a 12-month period between May of 2011 and the end of April 2012 over $24 million. That, said the magazine, placed him as the highest paid actor on television in the U.S.
Representatives for both actors would not comment on the papers that were filed by Moore on Thursday.
The two started dating shortly after Moore separated and divorced her previous husband, actor Bruce Willis. Moore is 16 years older than Kutcher and the difference in ages became tabloid fodder before they decided to marry in September of 2005.
The marriage ended after six years when word surfaced that Kutcher had an extramarital affair with a woman from San Diego in late 2011.