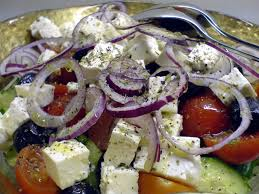 People eating a Mediterranean diet that is high in nuts or olive oil might reduce their chances of developing clogged arteries in the leg, according to a new study in Spain.
The new study's results follows those from a trial published in 2013 that showed that sticking to a Mediterranean diet might lower a risk of having a stroke or heart attack.
Spanish researchers said that now there was a strong lowering of risk for peripheral artery disease.
Peripheral artery disease comes about when plaque is built up in arteries that carry blood into the legs and feet. That restricts the flow of blood. That condition often times causes pain in the leg and fatigue, especially while walking.
The most recent trial was the first that randomly assigned people that did not have heart disease to the Mediterranean diet or another diet to see the results.
The researchers divided 7,477 Spaniards into three dietary plans; a diet that was Mediterranean supplemented with olive oil; a Mediterranean diet that had extra nuts; and a standard diet low in fat.
Participants then met with their dietician on four occasions each year to discuss eating habits as well as set goal on the best way to follow their diet more closely.
Researchers also handed over shopping lists, recipes and menus to the participants along with free nuts and olive oil for the participants assigned to the diets that were Mediterranean.
None of the people participating had heart disease when the study began, but all were deemed to be at a risk since they had either diabetes or a combination of other risks.
Over a five-year period, 89 people participating in the study were diagnosed with peripheral artery disease. Of the 89, 18 were in the group that had olive oil, 26 in the group with nuts and 45 in a regular low fat diet.
Researchers found that the olive oil supplemented Mediterranean diet cut the risk of peripheral artery disease by more than 64% and the extra nuts cut the risk by 50%.