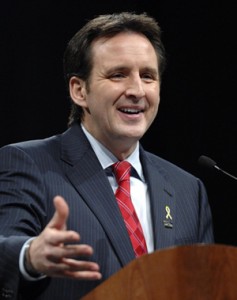 Tim Pawlenty, the former Governor of Minnesota and presidential candidate quit Thursday as the co-chair of the presidential campaign for Republican nominee Mitt Romney. He resigned to become a top lobbyist for Wall Street in Washington. Minnesota's former governor will be the head of the Financial Services Roundtable.
The move by Pawlenty comes just seven weeks prior to the election and while the campaign for Romney is struggling to find its way. Polls have shown that the former governor of Massachusetts is in a very close race for the White House with current President Barack Obama.
However, Romney's campaign has had to endure a video that showed him writing off supporters of Obama as having the mindset of victims and being dependent upon handouts from the government. Republicans not involved with the Romney campaign have said its needs something to give it a boost.
Pawlenty, in his statement released by the campaign, said he was honored to call both Mitt and Ann Romney friends. He said that as the home stretch starts for the campaign, Romney will have his full support and continued faith in his policies and vision.
Romney said through an official statement that Pawlenty was a very dear friend and had brought intelligence, dedication and relentless energy to everything he has ever been involve with and that without a doubt included the current campaign for the presidency.
Romney said while he regretted that Pawlenty could not continue in the campaign, his new position was vitally important to the financial system of the country.
Romney did not choose Pawlenty as his vice presidential running mate. In 2008, Pawlenty had also been discussed as a possible running mate for John McCain.