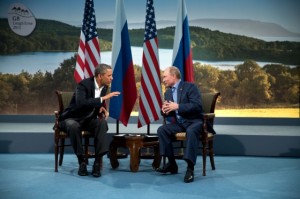 U.S. President Barack Obama has cancelled his meeting with Vladimir Putin the Russian President that was to be held next month in Moscow. The cancellation comes following the decision by the Russian president to grant Edward Snowden, the former contractor for the National Security Agency, asylum said the White House on Wednesday.
The Obama administration had previously said that Obama was not likely to attend the one-on-one meeting with President Putin in September ahead of the St. Petersburg summit with the Group of 20.
Obama said of his Russian counterpart that at times they fall back into a Cold War mentality and Cold War thinking. Obama was on the Tonight Show on Tuesday discussing this with Jay Leno. Obama said he continues to say to government officials in general and President Putin in specific is that stuff was done in the past, not today.
Obama is still planning to attend the summit meeting of the G-20 during early September, which Russian is readying itself to host.
Jay Carney the spokesman at the White House said the decision by Obama not to visit personally with Putin was due to not enough progress recently in the bilateral agenda with Russia.
The White House said due to a lack of progress on things such as arms control, missile defense, commercial and trade relations, human rights and global security issues over the past 12 months, it had informed the Russian government it would not be worth it to have a personal meeting with Putin.
The White House said that Russia's decision to give Edward Snowden asylum was disappointing for Obama and had been a factor that they considered in assessing the bilateral relationship.
The Obama administration said it would continue with this week's meeting with John Kerry the U.S. Secretary of State, Chuck Hagel the U.S. Defense Secretary and officials from Russia.