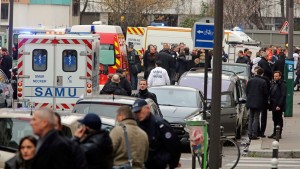 The head of the domestic intelligence agency in the UK said this week that al-Qaeda was a continual, immediate threat and was planning to carry out large-scale attacks against Western countries.
In a rare speech to the public, Andrew Parker the M15 chief said a number of al-Qaeda terrorists based in Syria were planning mass attacks that could cause large numbers of casualties in the West.
Parker did not elaborate on how far along the planning was.
However, his comments underscore how diverse the terrorist threats remain despite the focus recently on the Islamic State, which had taken large areas of land inside Iraq and Syria.
Parker made his comments at the London headquarters of M15 and come following the shooting attack on Wednesday in Paris, which killed 12.
While authorities still have not confirmed any connections with the attackers to terrorist groups, officials in intelligence have said that there was a possibility they were linked to al-Qaeda.
Parker briefly spoke about the attack in Paris, saying it was too early to make judgments about the origin of the attackers.
Speaking in general, Parker said the West faces a serious threat that continues to be complex to fight against and is not likely to stop for some time.
He said that recently, authorities prevented three terrorist plots in the UK that would have resulted in a number of deaths.
Parker said there was an increase in crude yet potentially deadly plots. He cited attacks in 2014 in Australia and Canada.
He said those types of attacks remain harder to detect and are often carried out by volatile individuals who are motivated by the propaganda from terrorist networks instead of working in a sophisticated network. Often times they act spontaneously said Parker or after a period of training.
Parker spoke about the threat that was stemming from Syria's conflict. There have been over 20 terrorist plots outside of Iraq and Syria that were either provoked or directed by Syria extremist groups, including those inside Australia, Belgium, France and Canada.
The chief of M15 said 600 extremists had traveled to Syria from Britain and many had joined the Islamic State.