The number of Americans who applied for jobless benefits dropped 22,000 last week to a seasonally adjusted 344,000. It is an indicator that the job market improved. The four week average of unemployment benefits declined 6,750 to 355,000 according to the Labor Department.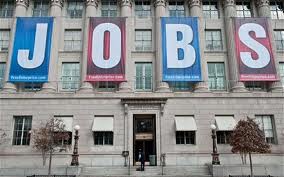 Economists are optimistic about the fall. It signals further improvement in the jobs markets. Stronger hiring is one of the reasons economists see the economy to grow in 2013 after the disappointing last quarter of 2012 when the economy experienced sluggish growth.
The weekly applications for jobless benefits are seen as a proxy for layoffs. When they drop, it indicates companies are cutting fewer workers and could be looking for more workers to augment their workforce.
Applications have a downward trend in recent weeks. The four week average has fallen almost 11 percent since November. At the same period, employers added an average of 200,000 jobs per month from November to January. It is higher than the 150,000 in the previous three months.
The economy added 157,000 jobs in January. The unemployment rate increased 7.9 percent from7.8 the previous month. Economists estimate that the rate would slow down if hiring continues at the month pace of 180,000. The unemployment rate dropped 0.7 percentage point in 2012.
The decline in jobless applications will add more jobs in February compared to January according to economists. The hiring occurred even as growth was slow in the last quarter of the year. The economy expanded by 0.1 percent at an annual rate in the last quarter compared to the 3.1 percent grown in the third quarter.
Americans are more confident and buying more new homes according to reports released this week. Home prices have been increasing and banks are lending more. These indicators suggest that the economy can withstand the automatic spending cuts that would take effect in Friday.