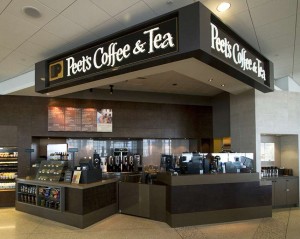 Peet's Coffee & Tea has announced that it will acquire a majority share of Intelligentsia Coffee, which is based in Chicago. It is the second deal for Peet's with the last month.
Once only a single store, Peet's, based in Berkeley, California is now acquiring boutique coffee roasters that are smaller. Earlier in October, it acquired Stumptown Coffee Roasters based in Oregon.
Intelligentsia will operate independently with new opportunities to growth nationally, particularly in grocery stores that are high-end, Peet's Dave Burwick the CEO and co-founder of Intelligentsia Doug Zell stressed during an interview.
For Peet's this deal represents an opportunity to strengthen its position with affluent, young customers in a super premium market for coffee that is expanding rapidly.
Terms of this deal and the size of stake Peet's is taking were not released. Zell, fellow co-founder of Intelligentsia Emily Mange and Geoff Watts the co-owner will have what they called a meaningful stake in the business and will continue to have involvement in running the overall business.
In the six Chicago Intelligentsia locations, customers might notice sprucing up, said Zell, but otherwise this experience will remain without change. We are truly excited about the possibilities this creates, he added. He concluded by saying the deal gives the business more access to resources to aid in its growth.
Peet's, which is Emeryville, California based, has over 240 locations across the U.S. and has seen growth in the Chicago market.
Intelligentsia has just 10 locations of which 6 are in Chicago, 3 in Los Angeles and 1 in New York.
Zell said plans existed to open a San Francisco Intelligentsia location in the 2016 second quarter and to expand in Los Angeles and New York. However, the growth will be both thoughtful and careful he added.
Zell added that they would not open 100 locations, as they will not compromise on quality.
One of the biggest benefits that Intelligentsia will gain from this merger is access to the retail delivery network of Peet's, which delivers their bagged coffee to over 14,000 locations.