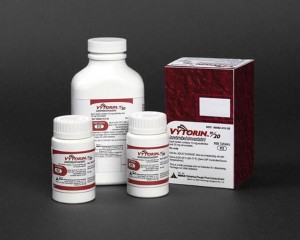 Merck & Co should not be given the ok to claim Vytorin, its drug for lowering cholesterol, reduces the risk of strokes or heart attack in patients that have coronary heart disease, said an advisory committee on Monday to the United States Food and Drug Administration.
The advisory panel evaluated the data from a trial of 18,000 patients whose results showed the combination treatment of Vytorin, which comprises Zetia as well as simvastatin an older drug that lowers cholesterol reduced rates of stroke, heart attack and death compared to using only simvastatin.
However, the panelists voted 10 against and 5 in favor to allow Merck to make this claim, saying they had not been convinced the benefit was meaningful clinically, especially since some data of the patients had been missing.
One of the members of the panel said the benefit had been small and if you blink, you miss it.
The FDA does not have to follow the advisory panel's advice but typically does.
Merck was not in agreement with the panel saying they believed the combination of ezetimibe with a statin gave a significant benefit to patients at high risk with coronary heart disease. Zetia is the brand name at Merck for ezetimibe.
In the study, Vytorin lowered the risk of strokes, heart attacks and other problems related to the heart by approximately 6.4%, compared to those patients who were only using simvastatin.
Merck sells simvastatin under the Zocor brand name.
Some of the advisory panelists said that the results were sufficient to support an approval.
Zetia and Vytorin are both approved to lower the bad LDL cholesterol. For a long time Vytorin has been used with the hope, it lowered bad events related to the cardiovascular system, but Merck has not been given the ok to make those claims in material it uses for marketing since the FDA did not approve it for that that particular use.