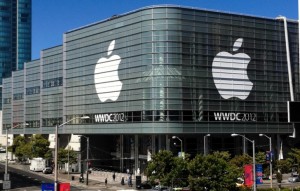 Apple's chief executive, Timothy D. Cook, has continued on his quest to shake up the company's executive ranks. On Thursday, several changes were announced to Apple's senior management team. The announced changes include new leadership in the company's hardware and marketing divisions.
On Thursday, it was announced that longtime executive Jeff Williams has been promoted to the job of chief operating officer. That position has remained unfilled since 2011. Mr. Williams started his career at Apple in 1998 when he was hired as head of worldwide procurement. He was promoted to vice president of operations in 2004 and was put in charge of Apple's supply chain six years later.
Mr. Williams holds a very important position in the company as Apple's supply chain is one of the company's greatest strengths. The large global operation has an army of contract workers that can be mobilized quickly to produce huge volumes of components and parts for products such as the iPhone and iPad. He is also responsible for overseeing Apple's social responsibility initiatives and preventing worker rights violations in the supply chain, which has more than one million employees worldwide.
Philip W. Schiller, senior vice president of worldwide marketing, will now be overseeing the App Store, a job previously conducted by Eddy Cue, Apple's senior vice president of Internet software and services. Mr. Schiller has experience with the app developer community and has become one of Apple's main liaisons with the group. Mr. Cue will continue to oversee software and services, including Apple Pay, Apple's new streaming music service and the company's television service efforts.
Mr. Cook became chief of Apple in 2011 shortly before Mr. Jobs died from pancreatic cancer. He previously ran operations at the Cupertino, Calif.-based company under Mr. Jobs for many years. Since rising to the top of the company, he has repeatedly adjusted the company's executive ranks in search of better performance.
Last year, Mr. Cook hired Angela Ahrendts, the former head of Burberry, as the company's new retail chief and tasked her with revitalizing Apple's retail stores. Around the same time, Luca Maestri, who joined Apple in 2013 as vice president of finance and corporate controller, was promoted to the position of chief financial officer.