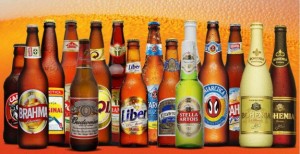 A beer drinking surge during the month long World Cup in June and July boosted Anheuser-Busch InBev NV profits in the recently ended quarter. This has left the beer maker optimistic about sales in the future after showcasing its different brands to billions who watched the Cup.
AB InBev, which makes Corona, Stella Artois and many other brands, was counting on the World Cup to market its different brands across the globe.
Brazil is the No. 2 market for the brewer and the final between Argentina and Germany attracted a Brazilian television audience of more than 24 million.
Revenue for the brewer for the quarter was up 5% to just over $12.2 billion after being adjusted for certain special items.
Those figures reflected the sales that were World Cup related for June. The strategy for the brewer is increase sales of up-market beer.
Net profit for the company was up by 72% to more than $2.61 billion over the three-month period that ended in June.
Lower costs for financing drove a large part of the gain, though also helping were cost cutting measures.
In Brazil, the volume of sales was up 7% with nearly 20% of soccer related growth to appear in the ongoing quarter.
The focus of the company is more on the effect the World Cup will have in the long term, said the CFO of the brewer Felipe Dutra.
AB InBev said it is expecting the World Cup to increase sales by as much as 2% this year in Brazil.
The largest beer maker in the world said its profitability improved in Mexico and China, two of the company's most important regions.
The boost from the World Cup improved sales of its premium beers which explained an increase in the brewers profit in Western Europe, where the demand overall of late has been sluggish.
Sales across China were very strong. The beer maker is pushing its brand Budweiser as a premium beer for China, and has had surprisingly strong results.
The U.S. market is AB InBev's biggest market and it lost market share during the most recent quarter, as the Budweiser brand appeal has faded.