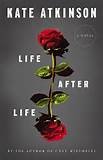 The latest novel by Kate Atkinson titled Life After Life tells the stories of Ursula a study, strange and brave girl born to a English family in the early 1900s. She dies after only one chapter of the book at the moment she is born, and then is reborn, over and over and over.
The core of the novel is how Ursula is doomed to relive her life over and over until she is able to get it right. This will certainly make the new novel one of the most talked about during 2013 as it used a dazzling act of juggling intertwined conventional narrative, chronology and the definition of existence.
Atkinson, a British author, used a dry sense of humor in previous novel and has succeeded in showing a great knack for testing the limits of characters' hearts and brains. However, this new novel demands more both from the reader and the main character Ursula.
Ursula becomes a rape victim while a teenager, an abused wife and then a victim of murder. Then in another lifetime she becomes a war hero pulling out bodies from London buildings that have been bombed. Some of the best writing in the novel is around the horrors that took place during World War II and specifically the Blitz.
Ursula is tested time and time again and the entire time the reader is tested as well as it is tough for many to read about characters they learn to like, die dozens of times.
The novel's premise comes from Greek philosopher Pindar who said, "Become such as you are, and having learned what it is." In the end, Ursula learns finally, who she is and that changes the world.