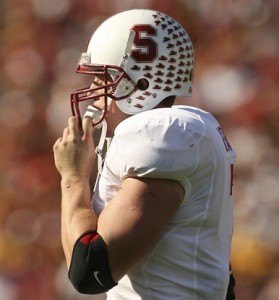 The NCAA football national title race took a huge turn in just the third week of the season. The no. 21 ranked Stanford Cardinal defeated no. 2 ranked USC Saturday at Stanford 21-14. The win for Stanford was its fourth consecutive over the Trojans and fifth in the last six years.
The Cardinal were led by Josh Nunes their quarterback whose pass to Zach Ertz was the go ahead touchdown. Running back Stepfan Taylor had 153 yards on the night and two important touchdowns.
USC's quarterback, Mark Barkley, who is a Heisman Trophy hopeful, threw for 254 yards on the night, but was hurt by two pass interceptions. In the game's last drive, Barkley was sacked twice and threw the last ball over the head of his receiver and out of bounds to end the game.
This season, the Trojans became eligible for postseason play after spending two seasons on probation for sanctions imposed by the NCAA, an exciting turn of events for those
sports betting
. The Trojans were preseason favorites to reach the National Championship game, but will now have to fight their way back and go undefeated the rest of the season to have any hope of a national championship.
With the win, Stanford moves to 3-0 on the season for the third consecutive season. The four consecutive head-to-head victories for Stanford is the longest consecutive win streak for Stanford in the 107-year rivalry between the two west coast schools.
Barkley in his career at USC has defeated every other Pac-12 opponent at least once, but is now 0-4 in his career versus Stanford.