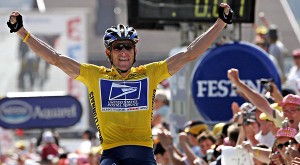 A report published late this week says that former U.S. cyclist Lance Armstrong will tape an interview on Monday with Oprah Winfrey. In the interview, sources said Armstrong would admit to doping while he competed and won seven straight Tour de France titles.
A person who is close to the situation and requested anonymity since he does not have authorization to speak publically about the situation said Armstrong would acknowledged he participated in doping, but would not give any details about how or anything specific.
The Monday interview will take place at Armstrong's home in Austin, Texas. The interview is scheduled to be aired on the Oprah Winfrey Network on Thursday.
The native of Texas, who is 41, denied for many years that he used any performance enhancers while competing, but was just stripped recently of all of his titles, including the seven for the Tour de France and was banned for life from participating in any professional cycling events.
In a report released in October, the U.S. Anti-doping Agency released volumes of material that showed how Armstrong uses PE's and different blood transfusions to have an advantage over his fellow competitors. The report also contains 11 statements, each one from a different former teammate of Armstrong who testified against him.
In 2005, under oath, Armstrong testified that he never doped however, it is unlikely there will be any perjury charges brought against him due to the statute of limitations.
Nevertheless, his admission could land Armstrong in hot water with certain individuals or parties that feel he defrauded them after years of denying he had anything to do with doping.