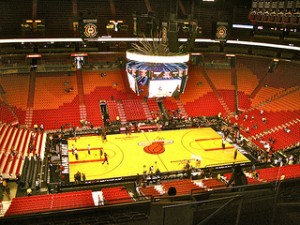 The Miami Heat defeated the Oklahoma City Thunder on Thursday night to claim the franchise's second NBA title. The title was the first for NBA MVP LeBron James. The Heat routed the Thunder 121-106 to win the series 4-1. The Heat won four consecutive games in the series after losing the opening game at Oklahoma City.
Leading the Heat was James with 26 points, 13 assists and 11 rebounds. The Heat also got 24 points from Chris Bosh and 20 from Dwayne Wade. The three – James, Wade and Bosh have played together for three seasons trying to win a title. Wade was a member of the Heat when the team won their first NBA title in 2006.
Oklahoma City started the series off right with a victory at home, but then lost four straight. Their four consecutive losses was the longest losing streak for the team the entire season. Kevin Durant led the young upstart Thunder with 32 points.
Since coming to Miami with great pomp and circumstance, James has suffered through attacks in the media. The biggest came last season after the Heat held a 2-1 lead over the Dallas Mavericks in the final series and then proceeded to lose three straight games and the championship. Critics called the team and mostly James chokers and the small forward had to wait until last night to quiet those critics.
Now the Heat have the entire off season to enjoy their hard earned championship, while the Thunder must regroup and look to fill in the hole that has troubled them, a solid threat at the post.