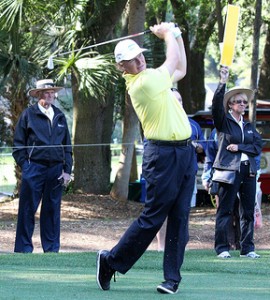 South African Ernie Els knew he would have to play almost flawless golf in the final round of the British Open if he hoped to have any chance of winning. He went out and played a brilliant round, recording a birdie on the last hole in dramatic fashion.
Els also knew that besides playing nearly flawless golf, he would also need the help of Australian Adam Scott to win. Scott started the day six shots ahead of Els. Els helped his cause be recording four birdies in his last nine holes to finish the round. Els finished his round prior to Scott and his birdie on the last hole cut Scott's lead to just one.
Scott helped Els cause tremendously over the last four holes. The Aussie struggled coming in and recorded four consecutive bogeys on his last four holes. He lost by one shot to Els. The Claret Jug was won by Els for the second time in his career and increased his major title total to four. With the win, Els has now won at least one of the four majors in each of the past three decades.
Following the tournament, Els said he felt sad for his good friend Scott. Els said he was still numb and in shock from the unexpected win and it would take some time before the win sunk in. When he received the Claret Jug, he told fans that he felt sorry for Scott since no one likes to see someone lose the way Scott did, even if they win at the expense of that player.