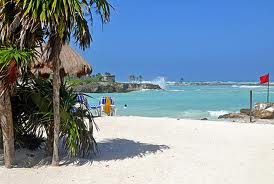 The Riviera Maya is located along a stretch of 80 miles of Mexican coastline that borders the Eastern Caribbean. Just south of Cancun on the Yucatan Peninsula, the area is known for its beautiful white sand beaches and the multi-hued waters of the Caribbean. In 2011, the region set new tourism records with over 3.6 million visitors.
The increase in visitors to the region was 7% from the prior year and an increase of over 200% compared to 2000. Over 10.2 million tourists visited Mexico in 2011 and more than 28% of them visited the area of the Riviera Maya.
There were a total of nearly 10.2 million room nights that amounted to an increase of nearly 8% over 2010 figures. Travelers from the U.S. remain the largest number of visitors to the Riviera Maya, representing more than 33% of all the area's visitors.
Even though Mexico's tourism has been challenged of late due to crime and drug wars, the area of the Riviera Maya has been able to maintain its appeal to travelers from all over the world.
Overall 80% of all visitors to the region are foreigners. Visitors from South America and Europe grew during 2011. European visitors were up 14.4%, while South American tourists jumped by nearly 33% during last year. Canada also sends a large contingent of travelers to the region and last year more than 45% of all Canadians that visited Mexico stayed in the Riviera Maya.
The region boasts over 100 recently built hotels and over 21,000 rooms available. A number of new luxury hotels are earmarked to open over the next two years. This year the area is expected to attract many visitors due to the end of the Maya calendar and the rebirth that is scheduled to take place.