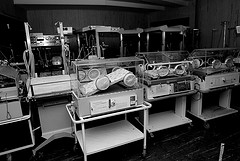 Last week a woman who was brain-dead gave birth to twins. Christine Bolden, 26, who suffered brain aneurysms, gave birth via C-section to two twin boys. Bolden was declared brain dead, by doctors, weeks ago. She had collapsed from intense pain back on March 6.
Following her collapse, she was rushed to a hospital in Grand Rapids, Michigan. The doctors there told her friends and family that she had suffered from a brain aneurysm that had been in her brain since the day she was born and had just burst.
A representative of the hospital said Bolden's family asked hospital doctors to do everything necessary to saves the twins that Christine was carrying. Bruce Rossman, the hospital's spokesman said, "It was not a difficult decision to make." He added, "It took lots of discussion and evaluations amongst hospital staff as 24 weeks was needed before delivery could even be considered."
The family of Bolden knew it was time to deliver the two babies when Christine's blood pressure increased so much last Friday that is was putting the baby's lives in danger. The family said it was also hard, since they knew that once the babies were delivered, Christine would die.
At just 25 weeks, the boys, Nicolas and Alexander were born by C-section in a very rare procedure. Each of the boys at birth weighed less than two pounds and had to be attached right away to ventilators.
Their mother, Christine passed away after the boys were delivered, but her family sees the positive side to what took place, said a family spokesperson. A family member said that both the twins and their mother could have been lost, but at least the twins were saved.