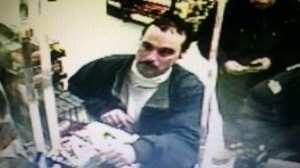 Michael David Elliot a convicted murderer used his own hands to pry open two fences around the perimeter of the Ionia Correctional Facility to escape on Sunday night.
The escape prompted authorities to put out a nationwide alert and manhunt that took until late Monday to catch the escapee in Indiana.
Elliot, who has been incarcerated for over two decades, was found in a stolen car in Indiana's rural La Porte County.
Elliot escaped on Sunday wearing a kitchen uniform that was white. The uniform color helped to blend him in with snow, as he avoided detection by one guard who drove past the prone escapee on two occasions coming within less than 20 feet once.
The inmate made his escape as other inmates started heading to eat. Authorities said Elliot spent nearly an hour working through the two perimeter fences, becoming free at about 7 p.m.
Officials told reporters that Elliot had been discovered missing at 9:15 p.m. during the prison's formal head count. The officials said the department would launch a complete investigation into all the circumstances that surrounded the escape.
Elliot was able to escape without any detection. Motion detectors did not sense Elliot, who escaped via the fence near a gun tower that was unmanned, which is only staffed when there is vehicle traffic coming or going from the facility, said officials.
Authorities believe the inmate walked through fields and an area of woods between the city of Ionia and the corrections facility. At that time, he abducted a female around 8:00 p.m. by threatening her with a box cutter. He took her in her Jeep Liberty.
He drove out of Ionia with the abducted woman and into Indiana where he filled the Liberty with gas, said police.
However, when he attempted to pay, the victim, using her cell phone, called 911. Elliot was not aware she had a phone. At that time, it was just prior to midnight.
The woman told the dispatcher that Elliot was paying for gas inside a store and she was a hostage being held by an inmate from the nearby corrections facility.
The dispatcher told the woman to ask to use the bathroom. The dispatcher said the woman was completely calm through the entire episode.
The plan the dispatcher hatched worked. From inside the bathroom, which she locked, the victim gave the dispatcher Elliot's description, saying he had on a jacket and her cargo pants.
Elliot left before the woman came out of the bathroom but was later captured in a stolen Monte Carlo after he ditched the Jeep Liberty.