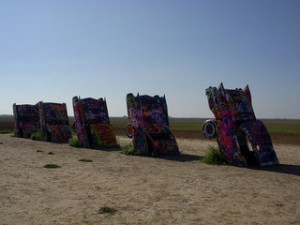 Stanley Marsh 3, the eccentric millionaire best known by his art display at his Cadillac Ranch located along the highway in Texas' Panhandle region, has settled the lawsuits of 10 teenagers who had accused him of paying them to perform sexual acts. The announcement was made Saturday by lawyers from both sides.
The jointly prepared statement said that the Marsh and the teenagers had resolved their issues and no side would make any further comments.
In 2011, March suffered a stroke and Gwendolyn Marsh, his wife, was appointed his guardian. March also must face six counts of sexual assault and five for sexual performance of a child. Those charges accuse the millionaire, who is 75, of molesting a boy who is 16 and one who is 15 during 2010. Marsh voluntarily surrendered in November to authorities and was then released on bail of $300,000. If Marsh is found guilty, he could face as many as 20 years behind bars for each count.
Marsh was accused in the civil suits of giving cash, drugs, alcohol and in one instance a pair of BMWs to the teenagers in exchange for sex acts with him in his office. One of the plaintiffs said he had been involved with over 100 sexual encounters with Marsh at his office and his Amarillo home.
When police arrested Marsh, they seized 70 packs of blue pills, two computers, confidentiality agreements, a photo of a male who was nude and a couch cushion.
Marsh is well known for the planting of 10 Cadillacs has, painted in bright colors, nose down on Interstate 40 during the 1970s. The Cadillacs are now a landmark for pop art.