Shareholders of US Airways have given their approval to the pending merger with American Airlines. The step will give the company a step towards becoming the biggest carrier in the world. US Airways CEO Doug Parker made the announcement during the company's annual meeting of stockholders last Friday.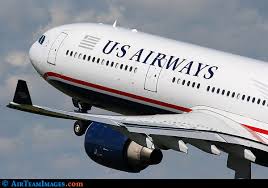 The merger of Northwest and Delta in 2008, United and Continental in 2010 and AirTran and Southwest in 2011 resulted into three airlines that are bigger than US Airways. Parker said that it made it hard for airlines such as American Airlines and US Airways to compete with their smaller network. The merger of American and US Airways will level the playing field.
The merger of American Airlines and US Airways is expected to be completed by the fall. IT will be the last significant merger among airlines based in the United States. The deal still has to overcome several obstacles along the way.
American Airlines' creditors are voting on the company's reorganization plan. Voting is said to end by July 29. If the creditors approve the plan, the bankruptcy court will convene for a hearing to review the plan on August 15.
If the bankruptcy court approves the plan, the last step is acquiring the approval of the Department of Justice. The agency will determine whether the combined carrier doesn't violate US trust laws.
American Airlines creditors and shareholders will own 72 percent of the combined American Airlines while US Airways shareholders get the remaining 28 percent. Once the merger is completed, it will take around 18 to 24 more months for the merged airline to get a certificate from the Department of Transportation to operate as a single airline and for the company to fully integrate its fleets, reservation systems and other components of the operation.
People are concerned that the consolidation in the airline industry would result to higher ticket prices. There are worries that smaller markets will lose service as air transportation will be handled by jumbo-sized carriers.