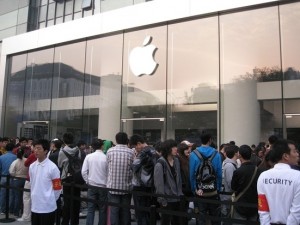 Apple will be posting its second quarter earnings on Monday April 27 after the close of the financial markets. The quarter is the second complete quarter since it highly popular iPhone 6 entered the market.
While the second quarter has be subdued traditionally for the smartphone market worldwide, with limited new products launched hitting stores shelves and volume driven in part by replenishments in inventory following the holiday shopping season, the quarter should be quite interesting for Apple.
Many analysts believe that sales of the iPhone in China will be the drivers of the quarterly earnings for the tech giant, given the Chinese New Year that occurred during February.
The rapid user additions for 4G in China and the improved balance between supply and demand for the new Apple iPhone 6 and 6 Plus, both of which were undersupplied during the previous quarter, will help Apple with its results this quarter.
Apple's guidance called for revenues of between $52 million and $55 million during the quarter, with margins of 38.5% to 39.5%.
While revenues at Apple typically see a sequential decline in quarter two, the business for in China, which includes all of China, Hong Kong and Taiwan, is usually the best during this quarter.
During the first quarter, Apple's total sales for Greater China were 70% above the year over year at a rate of $16.1 billion, which is close to three times the rate of growth in Europe and the America's
The belief by most is the number will increase this quarter and China could possibly become the largest market in the world for the iPhone, overtaking the U.S.
While Apple is not going to be breaking out numbers from China on the iPhone in its release on earnings, data from Kantar Worldpanel a research company for the three months ending February 25, should be what is expected.
The iPhone captured close to 27.5% of the China urban smartphone market, which was up from last year's 18%, replacing Xiaomi the local handset maker, as the top China vendor.
That is a huge feat since the iPhone sells for over twice the prices of the average smartphone that is sold within China.