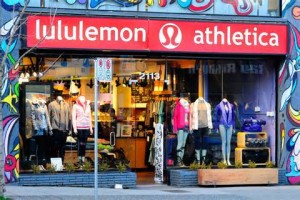 Lululemon Athletica Inc increased its revenue and profit forecast for the full year, the most recent sign the yogawear retailer based in Canada is recovering from turmoil caused by the recall of yoga pants that caused great embarrassment due to being too sheer in 2013.
The company reported as well a profit that was better than had been expected for the eighth consecutive quarter, which helped send its shares up more than 3% in Tuesday premarket trading.
Lululemon is going through a turnaround that is improving quality, expanding its line of products and solving problems with its supply chain, while laying a foundation for faster international growth.
Lululemon has been attempting as well to grow its apparel business for men while carrying on the women's apparel business, and making the line of products more fashionable.
The company increased its earnings for the full-year forecast to between $1.86 and $1.91 a share from its forecast previously of between $1.85 and $1.90. Its revenue forecast was up to between $2.00 and $2.05 billion from its previous forecast of between $1.97 and $2.02 billion.
The forecast for profit however, came up short of estimates by analysts of $41.93 a share, while the forecast for revenue compared to that of analysts of $2.02 billion.
The guidance is conservative said one analyst likely so it can be beaten again, but it is still too early and the bar can be increased down the road.
Total comparable sales at Lululemon increased 6% during the first quarter that ended on May 3 in comparison to an increase of 1% during the same period one year ago.
Profit increased to end the quarter at $47.8 million equal to 34 cents a share compared to last year's $18.9 million equal to 13 cents a share. Revenue was up by approximately 10% to just over $423.4 million.
Analysts were expecting profit to come in at 33 cents a share with revenue reaching as high as $418.8 million.
As of the close of business Monday, shares of Lululemon were up 10% in 2015.