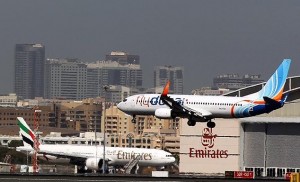 Several airlines have suspended their flights into Baghdad after a passenger plane that was arriving from the busiest airport in the region in Dubai was fired upon as it landed in the capital of Iraq.
A suspension of flights that is prolonged could limit the travel options available for Iraqis, businesspeople from overseas, diplomats as well as aid workers who need foreign carriers to carry them to larger transit hubs in the region.
FlyDubai a discount carrier said its flight 215 had been hit in the fuselage with what appeared to be small arms fire on Monday.
All of its passengers disembarked safely and no one needed any medical assistance, the carrier, which is owned by the government of Dubai, said.
Passengers who were heading to Dubai from Baghdad were put on another plane, as the aircraft was part of an investigation. A FlyDubai flight that was due to depart with a destination of Baghdad was canceled on Tuesday.
Emirates a Dubai based airline and the region's largest, said it suspended flights both to and from the capital of Iraq because of safety and operational concerns. The airline said the flights were cancelled until further notice.
Emirates will keep flying to Irbil a city in northern Iraq and to Basra the oil hub in the south.
Etihad Airways, which is based in Abu Dhabi the Emirati capital, said it was also suspending flights to and from the Iraqi capital after receiving a directive from the civil aviation authority. Air Arabia the budget carrier based in Sharjah one of the emirates near Dubai, also said it suspended service to Baghdad.
Both Bahrain's national carrier Gulf Air and Middle East Airlines based in Lebanon canceled their flights on Tuesday to Baghdad.
Iraqi officials said the bullets had hit the flight by FlyDubai when it touched down on Monday. It was not clear who carried out the shooting and if the plane had been deliberately targeted.