Samsung and Apple get new competition in the smartphone market as the two companies' combined market share dropped to 43 percent in the second quarter from 49 percent the previous year. This was according to the research firm IDC.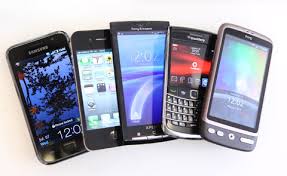 Old timers such as Sony, Nokia and HTC and relative newcomers like Lenovo, LG, ZTE and Huawei have steadily chipped away at the leaders. The smartphone market is not just about Apple against Samsung anymore.
Analysts said that consumers are looking for alternatives to Samsung or Apple because most smartphones are similar today. Phones that run on Google's Android operating system continue to gain ground.
The specifications of smartphones are converging. If you are looking for a high-definition 5-inch screen, you now have lots of choices aside from the Samsung Galaxy S4. Chinese smartphone makers have the advantage when it comes to the price, which has become a vital selling point.
No single company has yet to pose a threat to Samsung and Apple. But as a group, the next three top companies showed growth over the past year. LG's global smartphone sales increased to 5.3 percent in the second quarter from3.7 percent the previous year. Number 4 ZTE went up to 5 percent from 3.7 percent. Fifth place Huawei got 4.8 percent from 4.2 percent.
IDC posted a different ranking with Lenovo in fifth place. In the first quarter of 2011, three Western companies topped the IDC list. They are Apple, BlackBerry and Nokia. The shift towards the east reflected the growth of sales in China that has overtaken the United States as the largest smartphone market. Analysts have predicted that much of the potential growth will be in lower-priced smartphones, which is one sector of the market that Apple doesn't have any presence in.
Samsung and Apple also face new challenges at the high end of the market. While the two companies are still dominant, the market is open for new and old players that can provide different products.