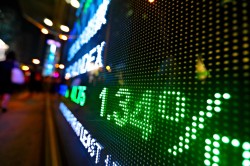 Whiting USA Trust II (OTCMKTS:WHZT) announced a quarterly dividend on Wednesday, August 7th, Zacks reports. Shareholders of record on Monday, August 19th will be given a dividend of 0.152 per share on Thursday, August 29th. This represents a $0.61 dividend on an annualized basis and a yield of 50.25%. The ex-dividend date is Friday, August 16th. This is a boost from Whiting USA Trust II's previous quarterly dividend of $0.14.
WHZT traded up $0.03 during midday trading on Friday, reaching $1.21. The company's stock had a trading volume of 5,963 shares, compared to its average volume of 19,788. The stock has a market capitalization of $22.26 million, a PE ratio of 1.52 and a beta of 1.36. The firm has a fifty day simple moving average of $1.17. Whiting USA Trust II has a twelve month low of $1.00 and a twelve month high of $3.16.
Whiting USA Trust II (OTCMKTS:WHZT) last released its earnings results on Friday, May 10th. The company reported $0.10 earnings per share (EPS) for the quarter. Whiting USA Trust II had a return on equity of 128.65% and a net margin of 37.58%. The firm had revenue of $11.44 million for the quarter.
Separately, ValuEngine raised Whiting USA Trust II from a "sell" rating to a "hold" rating in a report on Thursday, August 1st.
Whiting USA Trust II Company Profile
Whiting USA Trust II holds a term net profits interest in the oil and gas producing properties located in the Permian Basin, Rocky Mountains, Gulf Coast, and Mid-Continent regions. As of December 31, 2018, its oil and gas properties included interests in approximately 367.8 net producing oil and natural gas wells located in 46 predominately mature fields with established production profiles in 10 states.
Featured Story: Purposes and Functions of the Federal Reserve
Receive News & Ratings for Whiting USA Trust II Daily - Enter your email address below to receive a concise daily summary of the latest news and analysts' ratings for Whiting USA Trust II and related companies with MarketBeat.com's FREE daily email newsletter.