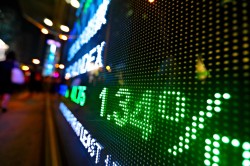 Village Farms International Inc (TSE:VFF)'s share price traded up 20.4% during mid-day trading on Tuesday . The stock traded as high as C$6.41 and last traded at C$6.14. 823,335 shares were traded during trading, an increase of 160% from the average session volume of 317,096 shares. The stock had previously closed at C$5.10.
The company has a current ratio of 1.91, a quick ratio of 0.92 and a debt-to-equity ratio of 52.53.
Village Farms International (TSE:VFF) last announced its quarterly earnings data on Monday, November 12th. The company reported C($0.05) earnings per share (EPS) for the quarter, missing the consensus estimate of C($0.04) by C($0.01). The company had revenue of C$51.86 million for the quarter, compared to analyst estimates of C$52.13 million. As a group, research analysts forecast that Village Farms International Inc will post 0.280000010980393 earnings per share for the current year.
WARNING: "Village Farms International (VFF) Trading 20.4% Higher" was first posted by Zolmax and is owned by of Zolmax. If you are viewing this article on another publication, it was illegally stolen and republished in violation of US and international copyright and trademark laws. The original version of this article can be viewed at https://zolmax.com/investing/village-farms-international-vff-trading-20-4-higher/2845112.html.
Village Farms International Company Profile (TSE:VFF)
Village Farms International, Inc, together with its subsidiaries, produces, markets, and distributes greenhouse-grown tomatoes, bell peppers, and cucumbers in North America. The company operates in two segments, Produce Business and Energy Business. It also owns and operates a 7.0 megawatt power plant from landfill gas that generates and sells electricity to British Columbia Hydro and Power Authority.
Further Reading: Price to Earnings Ratio (PE), For Valuing Stocks
Receive News & Ratings for Village Farms International Daily - Enter your email address below to receive a concise daily summary of the latest news and analysts' ratings for Village Farms International and related companies with MarketBeat.com's FREE daily email newsletter.