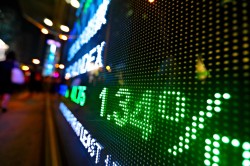 Uniphar plc (UPR.L) (LON:UPR)'s stock price was down 1.7% during mid-day trading on Wednesday . The company traded as low as GBX 2.41 ($0.03) and last traded at GBX 2.41 ($0.03). Approximately 955 shares traded hands during mid-day trading, a decline of 73% from the average daily volume of 3,551 shares. The stock had previously closed at GBX 2.45 ($0.03).
The firm has a market cap of £6.69 million and a PE ratio of 24.58. The company has a current ratio of 1.01, a quick ratio of 0.66 and a debt-to-equity ratio of 92.40. The stock's 50 day simple moving average is GBX 2.43.
In other Uniphar plc (UPR.L) news, insider Gerard Rabbette sold 350,000 shares of the company's stock in a transaction on Monday, December 21st. The stock was sold at an average price of GBX 248 ($3.24), for a total value of £868,000 ($1,134,047.56).
Uniphar plc (UPR.L) Company Profile
(
LON:UPR
)
Uniphar plc operates as a diversified healthcare services company in the Republic of Ireland, the United Kingdom, and internationally. The company operates through three divisions: Commercial & Clinical, Product Access, and Supply Chain & Retail. The Commercial & Clinical division offers outsourced sales, marketing, and multichannel account management services to pharmaco-medical manufacturers; and distribution and support services to medical device manufacturers.
Featured Article: Understanding Relative Strength Index

Receive News & Ratings for Uniphar plc (UPR.L) Daily - Enter your email address below to receive a concise daily summary of the latest news and analysts' ratings for Uniphar plc (UPR.L) and related companies with MarketBeat.com's FREE daily email newsletter.