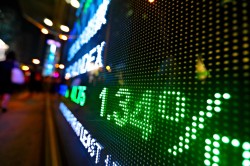 Twin River Worldwide (NYSE:TRWH) released its quarterly earnings data on Tuesday. The company reported $0.59 EPS for the quarter, beating the consensus estimate of $0.53 by $0.06, Fidelity Earnings reports. The business had revenue of $120.63 million during the quarter, compared to analysts' expectations of $119.10 million.
NYSE TRWH traded up $0.02 during mid-day trading on Wednesday, reaching $30.09. 766 shares of the stock were exchanged, compared to its average volume of 104,710. Twin River Worldwide has a 1 year low of $28.95 and a 1 year high of $33.98.
In other news, major shareholder Chatham Asset Management, Llc purchased 8,169 shares of the stock in a transaction that occurred on Tuesday, April 16th. The shares were purchased at an average cost of $33.15 per share, with a total value of $270,802.35. The transaction was disclosed in a filing with the Securities & Exchange Commission, which is accessible through this link. Also, major shareholder Alternative Asset Manage Solus sold 28,683 shares of the stock in a transaction on Wednesday, April 3rd. The stock was sold at an average price of $31.04, for a total transaction of $890,320.32. The disclosure for this sale can be found here. Insiders have purchased 191,523 shares of company stock worth $5,972,681 over the last three months. 35.00% of the stock is currently owned by insiders.
Separately, Stifel Nicolaus began coverage on shares of Twin River Worldwide in a report on Wednesday, April 24th. They set a "buy" rating and a $43.00 price target on the stock.
ILLEGAL ACTIVITY NOTICE: This piece was published by Zolmax and is the sole property of of Zolmax. If you are accessing this piece on another domain, it was illegally stolen and reposted in violation of US and international trademark and copyright law. The correct version of this piece can be accessed at https://zolmax.com/investing/twin-river-worldwide-trwh-posts-quarterly-earnings-results-beats-expectations-by-0-06-eps/3084887.html.
About Twin River Worldwide
There is no company description available for Twin River Worldwide Holdings Inc
Recommended Story: CBOE Russell 2000® Volatility Index
Receive News & Ratings for Twin River Worldwide Daily - Enter your email address below to receive a concise daily summary of the latest news and analysts' ratings for Twin River Worldwide and related companies with MarketBeat.com's FREE daily email newsletter.