Tilly's (NYSE:TLYS) issued an update on its fourth quarter 2019
After-Hours earnings guidance on Wednesday morning. The company provided earnings per share (EPS) guidance of 0.29-0.32 for the period, compared to the Thomson Reuters consensus estimate of $0.27. The company issued revenue guidance of $179-184 million, compared to the consensus revenue estimate of $178.39 million.
Shares of NYSE:TLYS traded up $0.29 on Wednesday, reaching $10.02. The company had a trading volume of 431,490 shares, compared to its average volume of 322,836. Tilly's has a 52-week low of $7.62 and a 52-week high of $13.10. The firm's 50 day simple moving average is $10.10 and its 200-day simple moving average is $9.18. The firm has a market capitalization of $291.62 million, a PE ratio of 12.53, a PEG ratio of 1.09 and a beta of 0.52. The company has a current ratio of 1.64, a quick ratio of 1.08 and a debt-to-equity ratio of 1.34.
A number of research analysts have recently issued reports on TLYS shares. ValuEngine downgraded Tilly's from a hold rating to a sell rating in a report on Friday, November 29th. Pivotal Research reiterated a buy rating and issued a $13.00 price target on shares of Tilly's in a report on Tuesday. Zacks Investment Research downgraded Tilly's from a strong-buy rating to a hold rating and set a $12.00 price target on the stock. in a report on Sunday, November 3rd. Finally, B. Riley set a $14.00 price target on Tilly's and gave the company a buy rating in a report on Monday, August 26th. One equities research analyst has rated the stock with a sell rating, one has issued a hold rating and two have assigned a buy rating to the company. The company presently has a consensus rating of Hold and an average target price of $13.00.
In related news, Director Bernard Zeichner sold 10,000 shares of the business's stock in a transaction on Thursday, September 12th. The stock was sold at an average price of $10.75, for a total transaction of $107,500.00. The sale was disclosed in a filing with the SEC, which can be accessed through the SEC website. 29.50% of the stock is owned by insiders.
Tilly's Company Profile
Tilly's, Inc retails casual apparel, footwear, and accessories for young men and women, and boys and girls in the United States. Its apparel merchandise includes tops, outerwear, bottoms, and dresses; and accessories merchandise comprises backpacks, hats, sunglasses, headphones, handbags, watches, jewelry, and others.
Recommended Story: Cash Flow Analysis in Stock Selection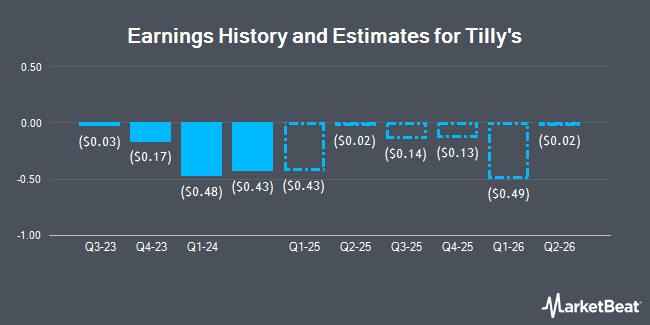 Receive News & Ratings for Tilly's Daily - Enter your email address below to receive a concise daily summary of the latest news and analysts' ratings for Tilly's and related companies with MarketBeat.com's FREE daily email newsletter.