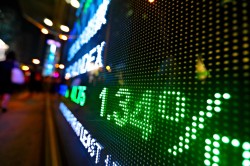 ShiftPixy Inc (NASDAQ:PIXY) – Investment analysts at Zacks Investment Research increased their Q3 2019 EPS estimates for shares of ShiftPixy in a research note issued on Tuesday, April 16th. Zacks Investment Research analyst L. Thompson now anticipates that the company will post earnings per share of ($0.09) for the quarter, up from their previous forecast of ($0.10). Zacks Investment Research also issued estimates for ShiftPixy's Q4 2019 earnings at ($0.07) EPS and FY2019 earnings at ($0.24) EPS.
ShiftPixy (NASDAQ:PIXY) last announced its earnings results on Monday, April 15th. The company reported ($0.09) EPS for the quarter, beating the Thomson Reuters' consensus estimate of ($0.10) by $0.01. The company had revenue of $13.19 million during the quarter, compared to the consensus estimate of $14.84 million.
Shares of PIXY stock opened at $1.03 on Friday. ShiftPixy has a one year low of $1.00 and a one year high of $5.37. The company has a market capitalization of $33.29 million, a P/E ratio of -1.78 and a beta of 1.29.
A hedge fund recently raised its stake in ShiftPixy stock. Vanguard Group Inc boosted its stake in ShiftPixy Inc (NASDAQ:PIXY) by 26.0% during the 3rd quarter, according to its most recent Form 13F filing with the Securities and Exchange Commission (SEC). The fund owned 46,515 shares of the company's stock after acquiring an additional 9,598 shares during the period. Vanguard Group Inc owned 0.16% of ShiftPixy worth $180,000 at the end of the most recent quarter. 1.98% of the stock is currently owned by institutional investors.
About ShiftPixy
ShiftPixy, Inc provides employment services for businesses; and workers in shift or other part-time/temporary positions in the United States. The company also operates as a payroll processor, human resources consultant, and administrator of workers' compensation coverages and claims. It primarily serves restaurant, hospitality, and maintenance service industries.
See Also: How a Back-End Load Mutual Fund Works
Receive News & Ratings for ShiftPixy Daily - Enter your email address below to receive a concise daily summary of the latest news and analysts' ratings for ShiftPixy and related companies with MarketBeat.com's FREE daily email newsletter.