Ramco-Gershenson Properties Trust (NYSE:RPT) updated its FY 2019 earnings guidance on Wednesday. The company provided earnings per share guidance of $1.03-1.07 for the period.
A number of brokerages have recently issued reports on RPT. ValuEngine upgraded shares of Ramco-Gershenson Properties Trust from a sell rating to a hold rating in a research report on Saturday, February 2nd. Zacks Investment Research lowered shares of Ramco-Gershenson Properties Trust from a hold rating to a sell rating in a research note on Tuesday, January 8th. Two research analysts have rated the stock with a sell rating, three have given a hold rating and two have issued a buy rating to the company's stock. The company has an average rating of Hold and an average target price of $13.17.
Shares of NYSE:RPT traded down $0.05 during mid-day trading on Wednesday, hitting $13.35. The company had a trading volume of 520,100 shares, compared to its average volume of 651,197. The firm has a market capitalization of $1.07 billion, a P/E ratio of 9.82, a P/E/G ratio of 3.41 and a beta of 0.79. The company has a quick ratio of 0.57, a current ratio of 0.57 and a debt-to-equity ratio of 1.37. Ramco-Gershenson Properties Trust has a one year low of $11.15 and a one year high of $14.42.
COPYRIGHT VIOLATION NOTICE: "Ramco-Gershenson Properties Trust (RPT) Updates FY 2019 Earnings Guidance" was originally published by Zolmax and is the sole property of of Zolmax. If you are reading this story on another website, it was illegally stolen and reposted in violation of United States and international copyright law. The correct version of this story can be accessed at https://zolmax.com/investing/ramco-gershenson-properties-trust-rpt-updates-fy-2019-earnings-guidance/2914977.html.
Ramco-Gershenson Properties Trust Company Profile
RPT Realty owns and operates a national portfolio of open-air shopping destinations principally located in top U.S. markets. The Company's locally-curated consumer experiences reflect the lifestyles of its diverse neighborhoods and match the modern expectations of its retail partners. The Company is a fully integrated and self-administered REIT publicly traded on the New York Stock Exchange under the ticker symbol RPT.
Featured Story: What economic reports are most valuable to investors?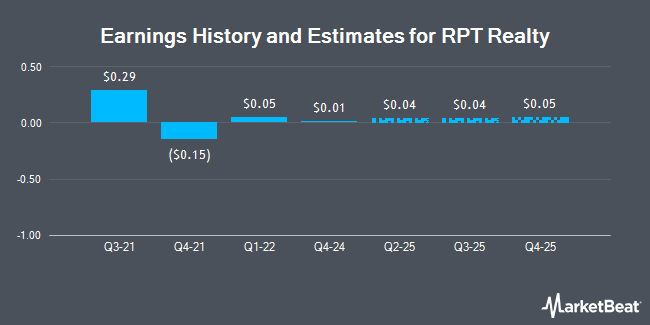 Receive News & Ratings for Ramco-Gershenson Properties Trust Daily - Enter your email address below to receive a concise daily summary of the latest news and analysts' ratings for Ramco-Gershenson Properties Trust and related companies with MarketBeat.com's FREE daily email newsletter.