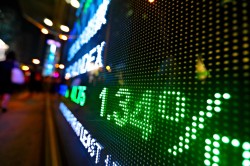 Petroteq Energy Inc (CVE:PQE) shares fell 3.8% during trading on Monday . The company traded as low as C$0.37 and last traded at C$0.38. 95,500 shares traded hands during mid-day trading, a decline of 20% from the average session volume of 118,930 shares. The stock had previously closed at C$0.39.
The company has a market cap of $46.86 million and a P/E ratio of -1.48. The company has a debt-to-equity ratio of 14.99, a current ratio of 0.27 and a quick ratio of 0.13.
Petroteq Energy (CVE:PQE) last released its earnings results on Tuesday, January 29th. The company reported C($0.09) EPS for the quarter. On average, analysts forecast that Petroteq Energy Inc will post -0.0700000034567903 earnings per share for the current year.
COPYRIGHT VIOLATION WARNING: This piece was published by Zolmax and is owned by of Zolmax. If you are viewing this piece on another website, it was illegally copied and reposted in violation of United States and international copyright & trademark laws. The original version of this piece can be accessed at https://zolmax.com/investing/petroteq-energy-pqe-shares-down-3-8/3054646.html.
Petroteq Energy Company Profile (CVE:PQE)
Petroteq Energy Inc engages in the oil extraction and processing operations. The company is involved in the tar sands mining and oil processing activities using a closed-loop solvent based extraction system that recovers bitumen from surface mining. It holds a 100% working interest in 2,541.73 acre oil sands leases covering oil sands in the Asphalt Ridge area in Utah.
Read More: What is a Special Dividend?
Receive News & Ratings for Petroteq Energy Daily - Enter your email address below to receive a concise daily summary of the latest news and analysts' ratings for Petroteq Energy and related companies with MarketBeat.com's FREE daily email newsletter.