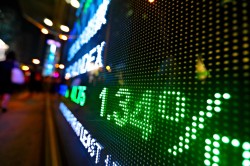 OurPet's (OTCMKTS:OPCO) announced its earnings results on Wednesday. The company reported $0.01 earnings per share for the quarter, missing the consensus estimate of $0.02 by ($0.01), MarketWatch Earnings reports. OurPet's had a net margin of 5.01% and a return on equity of 11.57%. The company had revenue of $7.19 million during the quarter.
Shares of OPCO stock traded down $0.02 during midday trading on Thursday, hitting $0.73. The company had a trading volume of 3,200 shares, compared to its average volume of 7,667. OurPet's has a 52-week low of $0.61 and a 52-week high of $1.55. The company has a market capitalization of $14.69 million, a P/E ratio of 10.49 and a beta of -0.18. The company has a current ratio of 8.15, a quick ratio of 4.13 and a debt-to-equity ratio of 0.21.
ILLEGAL ACTIVITY NOTICE: "OurPet's (OPCO) Issues Quarterly Earnings Results" was first reported by Zolmax and is the property of of Zolmax. If you are viewing this piece of content on another domain, it was illegally copied and republished in violation of United States and international copyright and trademark legislation. The correct version of this piece of content can be accessed at https://zolmax.com/investing/ourpets-opco-issues-quarterly-earnings-results/2670464.html.
OurPet's Company Profile
OurPet's Company designs, develops, produces, and markets various accessories and consumable pet products for enhancing the health, safety, comfort, and enjoyment of pets in the United States and internationally. It offers various pet products, such as dog, cat, and bird feeders; storage bins; dog and cat toys; cat and dog waste management products; catnip products; scratchers and cat treats; dog houses, bowls, and molds; cat litter, litter box accessories, and disposable litter boxes; and pet supplements.
Featured Story: Market Capitalization
Receive News & Ratings for OurPet's Daily - Enter your email address below to receive a concise daily summary of the latest news and analysts' ratings for OurPet's and related companies with MarketBeat.com's FREE daily email newsletter.