Medtronic plc (NYSE:MDT – Get Rating) declared a quarterly dividend on Thursday, May 25th, RTT News reports. Stockholders of record on Friday, June 23rd will be paid a dividend of 0.69 per share by the medical technology company on Friday, July 14th. This represents a $2.76 dividend on an annualized basis and a dividend yield of 3.30%. This is a positive change from Medtronic's previous quarterly dividend of $0.68.
Medtronic has raised its dividend by an average of 8.0% per year over the last three years and has increased its dividend annually for the last 46 consecutive years. Medtronic has a payout ratio of 48.1% meaning its dividend is sufficiently covered by earnings. Research analysts expect Medtronic to earn $5.18 per share next year, which means the company should continue to be able to cover its $2.72 annual dividend with an expected future payout ratio of 52.5%.
Medtronic Trading Down 4.5 %
NYSE MDT opened at $83.54 on Friday. The stock has a market capitalization of $111.14 billion, a P/E ratio of 27.48, a P/E/G ratio of 2.11 and a beta of 0.71. The business has a 50 day simple moving average of $84.78 and a 200 day simple moving average of $82.11. The company has a debt-to-equity ratio of 0.43, a current ratio of 1.76 and a quick ratio of 1.39. Medtronic has a one year low of $75.76 and a one year high of $101.39.
Medtronic (
NYSE:MDT
–
Get Rating
) last released its earnings results on Thursday, May 25th. The medical technology company reported $1.57 earnings per share (EPS) for the quarter, beating analysts' consensus estimates of $1.56 by $0.01. The company had revenue of $8.54 billion for the quarter, compared to the consensus estimate of $8.25 billion. Medtronic had a net margin of 13.20% and a return on equity of 13.37%. Medtronic's quarterly revenue was up 5.6% compared to the same quarter last year. During the same quarter in the previous year, the company earned $1.52 EPS. Research analysts expect that Medtronic will post 5.28 earnings per share for the current year.
Hedge Funds Weigh In On Medtronic
Several institutional investors have recently added to or reduced their stakes in MDT. Certified Advisory Corp purchased a new position in Medtronic in the first quarter valued at about $31,000. Fairfield Bush & CO. purchased a new position in Medtronic in the first quarter valued at approximately $47,000. Aspire Private Capital LLC grew its holdings in Medtronic by 36.2% during the fourth quarter. Aspire Private Capital LLC now owns 561 shares of the medical technology company's stock valued at $43,605,661,000 after purchasing an additional 149 shares during the period. Strategic Investment Solutions Inc. IL bought a new stake in shares of Medtronic in the first quarter valued at $47,000. Finally, Coppell Advisory Solutions Corp. purchased a new position in shares of Medtronic during the 4th quarter valued at $62,000. Institutional investors own 80.37% of the company's stock.
Wall Street Analyst Weigh In
Several analysts have recently commented on MDT shares. Royal Bank of Canada restated a "sector perform" rating and issued a $89.00 target price on shares of Medtronic in a research note on Friday, April 21st. UBS Group downgraded Medtronic from a "buy" rating to a "sell" rating and decreased their price objective for the company from $127.00 to $79.00 in a report on Wednesday, March 29th. Sanford C. Bernstein cut their target price on Medtronic from $100.00 to $99.00 in a report on Friday. StockNews.com initiated coverage on shares of Medtronic in a research note on Thursday, May 18th. They set a "buy" rating for the company. Finally, Truist Financial raised their price objective on shares of Medtronic from $88.00 to $93.00 in a research note on Monday, April 24th. Two research analysts have rated the stock with a sell rating, eleven have given a hold rating and four have issued a buy rating to the company's stock. Based on data from MarketBeat.com, the stock presently has a consensus rating of "Hold" and a consensus price target of $90.58.
About Medtronic
Medtronic Plc is a medical technology company, which engages in the development, manufacture, distribution, and sale of device-based medical therapies and services. It operates through the following segments: Cardiovascular Porrtfolio, Neuroscience Portfolio, Medical Surgical Portfolio, and Diabetes Operating Unit.
Featured Stories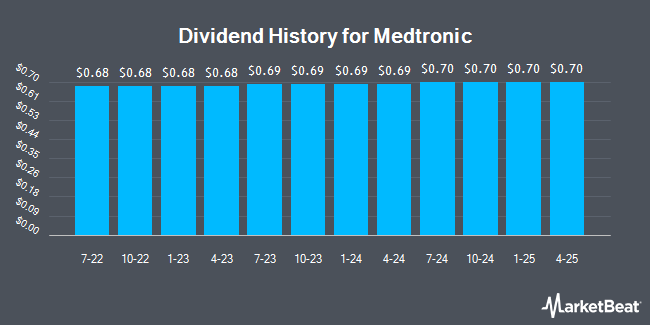 Receive News & Ratings for Medtronic Daily - Enter your email address below to receive a concise daily summary of the latest news and analysts' ratings for Medtronic and related companies with MarketBeat.com's FREE daily email newsletter.