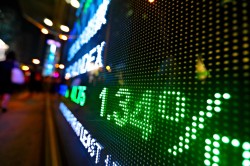 Mason Graphite Inc (CVE:LLG) shares shot up 5.6% on Monday . The stock traded as high as C$0.39 and last traded at C$0.38. 51,000 shares traded hands during mid-day trading, a decline of 67% from the average session volume of 156,139 shares. The stock had previously closed at C$0.36.
Separately, National Bank Financial decreased their price target on shares of Mason Graphite from C$1.65 to C$0.90 and set an "outperform" rating on the stock in a report on Wednesday, May 15th.
The stock has a market capitalization of $48.36 million and a PE ratio of 20.83. The company has a fifty day simple moving average of C$0.35. The company has a current ratio of 1.87, a quick ratio of 1.86 and a debt-to-equity ratio of 4.33.
Mason Graphite (CVE:LLG) last released its quarterly earnings results on Tuesday, May 28th. The mining company reported C($0.01) earnings per share for the quarter, hitting the consensus estimate of C($0.01). As a group, analysts forecast that Mason Graphite Inc will post -0.03 earnings per share for the current year.
WARNING: This story was originally posted by Zolmax and is the property of of Zolmax. If you are reading this story on another site, it was stolen and republished in violation of U.S. & international trademark & copyright laws. The original version of this story can be viewed at https://zolmax.com/investing/mason-graphite-cvellg-shares-up-5-6/3116983.html.
Mason Graphite Company Profile (CVE:LLG)
Mason Graphite Inc, a mining and processing company, engages in the acquisition, exploration, evaluation, and development of mineral properties in Canada. It owns a 100% interest in the Lac Guéret graphite property, which consists of 215 claims covering an area of 11,630 hectares located in northeastern Quebec.
Featured Story: How do buyers and sellers choose a strike price?
Receive News & Ratings for Mason Graphite Daily - Enter your email address below to receive a concise daily summary of the latest news and analysts' ratings for Mason Graphite and related companies with MarketBeat.com's FREE daily email newsletter.