Kahn Brothers Group Inc. DE purchased a new position in shares of Lifeway Foods, Inc. (NASDAQ:LWAY) in the 2nd quarter, according to the company in its most recent filing with the SEC. The fund purchased 10,000 shares of the company's stock, valued at approximately $36,000. Kahn Brothers Group Inc. DE owned 0.06% of Lifeway Foods at the end of the most recent reporting period.
Lifeway Foods stock traded down $0.11 during midday trading on Tuesday, hitting $2.55. 12,477 shares of the stock were exchanged, compared to its average volume of 38,392. The company has a fifty day simple moving average of $3.17 and a two-hundred day simple moving average of $2.60. Lifeway Foods, Inc. has a 52 week low of $1.81 and a 52 week high of $4.75. The company has a quick ratio of 1.40, a current ratio of 2.14 and a debt-to-equity ratio of 0.12.
Lifeway Foods (NASDAQ:LWAY) last announced its quarterly earnings results on Monday, May 20th. The company reported ($0.02) earnings per share for the quarter. Lifeway Foods had a negative net margin of 3.57% and a negative return on equity of 8.06%. The company had revenue of $24.62 million during the quarter.
Lifeway Foods Company Profile
Lifeway Foods, Inc produces and markets probiotic-based products in the United States and internationally. Its primary product is drinkable kefir, a cultured dairy product in various organic and non-organic sizes, flavors, and types, including low fat, non-fat, whole milk, protein, BioKefir, and kefir with oats.
Recommended Story: What does a neutral rating on stocks mean?
Want to see what other hedge funds are holding LWAY? Visit HoldingsChannel.com to get the latest 13F filings and insider trades for Lifeway Foods, Inc. (NASDAQ:LWAY).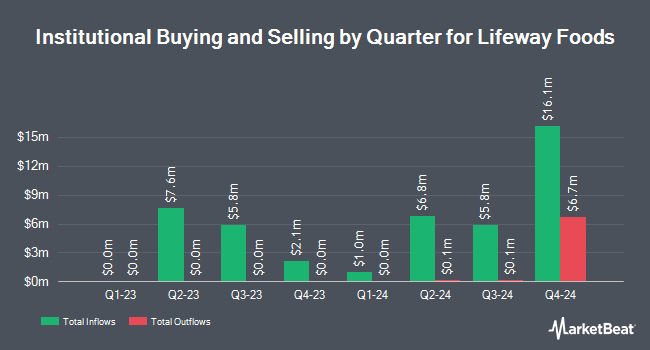 Receive News & Ratings for Lifeway Foods Daily - Enter your email address below to receive a concise daily summary of the latest news and analysts' ratings for Lifeway Foods and related companies with MarketBeat.com's FREE daily email newsletter.