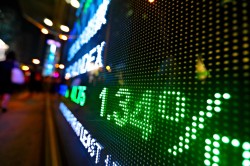 Shares of GT Gold Corp (CVE:GTT) gapped down prior to trading on Monday . The stock had previously closed at $1.66, but opened at $1.55. GT Gold shares last traded at $1.58, with a volume of 22,939 shares.
Separately, Pi Financial upped their price target on shares of GT Gold from C$2.90 to C$3.00 in a report on Friday, August 28th.
The stock has a market cap of $251.45 million and a price-to-earnings ratio of -17.07. The business has a fifty day moving average of C$1.70 and a 200 day moving average of C$1.42.
In other news, insider The K2 Principal Fund L.P. bought 81,500 shares of GT Gold stock in a transaction that occurred on Thursday, July 30th. The stock was purchased at an average cost of C$1.39 per share, with a total value of C$113,285.00. Following the completion of the transaction, the insider now directly owns 13,250,000 shares in the company, valued at C$18,417,500.
About GT Gold (CVE:GTT)
GT Gold Corp. primarily engages in the acquisition, exploration, and development of gold properties in Canada. It also explores for silver and copper. The company's flagship property is the Tatogga property covering an area of 43,178 hectares, which is located in the northwestern British Columbia.
Featured Story: What is a put option?
Receive News & Ratings for GT Gold Daily - Enter your email address below to receive a concise daily summary of the latest news and analysts' ratings for GT Gold and related companies with MarketBeat.com's FREE daily email newsletter.