Five Below (NASDAQ:FIVE) issued an update on its FY 2019
After-Hours earnings guidance on Wednesday morning. The company provided earnings per share (EPS) guidance of 3.11-3.19 for the period, compared to the Thomson Reuters consensus estimate of $3.15. The company issued revenue guidance of $1.877-1.892 billion, compared to the consensus revenue estimate of $1.89 billion.Five Below also updated its Q4 2019
After-Hours guidance to 1.97-2.05 EPS.
FIVE traded up $2.04 on Wednesday, hitting $118.06. 3,068,148 shares of the company were exchanged, compared to its average volume of 1,000,913. The firm has a fifty day simple moving average of $126.28 and a two-hundred day simple moving average of $124.54. The company has a debt-to-equity ratio of 1.08, a quick ratio of 1.09 and a current ratio of 1.98. Five Below has a 12 month low of $86.57 and a 12 month high of $148.21. The stock has a market capitalization of $6.89 billion, a PE ratio of 45.94, a price-to-earnings-growth ratio of 1.68 and a beta of 0.53.
FIVE has been the topic of several recent research reports. Deutsche Bank set a $146.00 price target on Five Below and gave the stock a buy rating in a research report on Monday, August 26th. Wells Fargo & Co raised their price target on Five Below from $143.00 to $152.00 and gave the stock an outperform rating in a research report on Thursday, September 5th. Craig Hallum initiated coverage on Five Below in a research report on Tuesday, September 10th. They set a buy rating and a $168.00 price target on the stock. JPMorgan Chase & Co. raised their price target on Five Below from $140.00 to $143.00 and gave the stock an overweight rating in a research report on Thursday, August 29th. Finally, Barclays restated a neutral rating on shares of Five Below in a research report on Friday, August 30th. Two research analysts have rated the stock with a sell rating, five have issued a hold rating, thirteen have issued a buy rating and one has issued a strong buy rating to the stock. The company currently has a consensus rating of Buy and a consensus target price of $137.78.
In other Five Below news, Director Thomas Vellios sold 60,000 shares of the stock in a transaction that occurred on Thursday, October 17th. The stock was sold at an average price of $133.31, for a total value of $7,998,600.00. Following the completion of the sale, the director now owns 604,186 shares in the company, valued at approximately $80,544,035.66. The transaction was disclosed in a document filed with the SEC, which is available at this link. Company insiders own 2.50% of the company's stock.
About Five Below
Five Below, Inc operates as a specialty value retailer in the United States. It offers accessories, including novelty socks, sunglasses, jewelry, scarves, gloves, hair accessories, athletic tops and bottoms, and T-shirts, as well as nail polishes, lip glosses, fragrances, and branded cosmetics; and items used to complete and personalize living space, including glitter lamps, posters, frames, fleece blankets, plush items, pillows, candles, incense, lighting, novelty décor, and related items, as well as provides storage options for the customers room.
Featured Article: How to invest in blue-chip stocks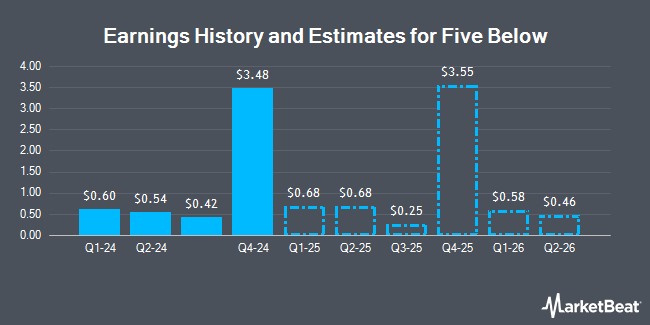 Receive News & Ratings for Five Below Daily - Enter your email address below to receive a concise daily summary of the latest news and analysts' ratings for Five Below and related companies with MarketBeat.com's FREE daily email newsletter.