Shares of Despegar.com Corp (NYSE:DESP) have been given an average recommendation of "Hold" by the seven brokerages that are presently covering the stock, MarketBeat Ratings reports. Two equities research analysts have rated the stock with a sell rating, three have given a hold rating and two have given a buy rating to the company. The average 1 year price objective among brokers that have updated their coverage on the stock in the last year is $26.25.
A number of equities analysts have weighed in on DESP shares. Zacks Investment Research lowered Despegar.com from a "hold" rating to a "sell" rating in a research note on Tuesday, January 29th. KeyCorp started coverage on Despegar.com in a research note on Tuesday, December 18th. They set a "sector weight" rating on the stock.
A number of hedge funds and other institutional investors have recently added to or reduced their stakes in the business. Global Thematic Partners LLC lifted its stake in shares of Despegar.com by 1.8% in the 4th quarter. Global Thematic Partners LLC now owns 1,619,509 shares of the company's stock valued at $20,100,000 after purchasing an additional 28,599 shares during the last quarter. Jupiter Asset Management Ltd. acquired a new position in Despegar.com during the 3rd quarter worth about $10,672,000. Schroder Investment Management Group acquired a new position in Despegar.com during the 2nd quarter worth about $11,876,000. Brown Advisory Inc. acquired a new position in Despegar.com during the 3rd quarter worth about $8,044,000. Finally, Pekin Singer Strauss Asset Management IL acquired a new position in Despegar.com during the 4th quarter worth about $4,916,000. 66.45% of the stock is currently owned by institutional investors.
Shares of DESP traded up $0.13 during trading hours on Tuesday, hitting $17.23. 9,664 shares of the stock were exchanged, compared to its average volume of 390,442. Despegar.com has a 12-month low of $11.11 and a 12-month high of $36.56. The stock has a market capitalization of $1.19 billion, a price-to-earnings ratio of 25.00 and a beta of 0.91.
Despegar.com Company Profile
Despegar.com, Corp., an online travel company, provides a range of travel and travel-related products through its Websites and mobile applications in Latin America. It operates through two segments, Air; and Packages, Hotels and Other Travel Products. The company offers airline tickets, packages, hotels, and other travel-related products under the Despegar and Decolar brands, which enable consumers to find, compare, plan, and purchase travel products through its marketplace.
Read More: Stock Split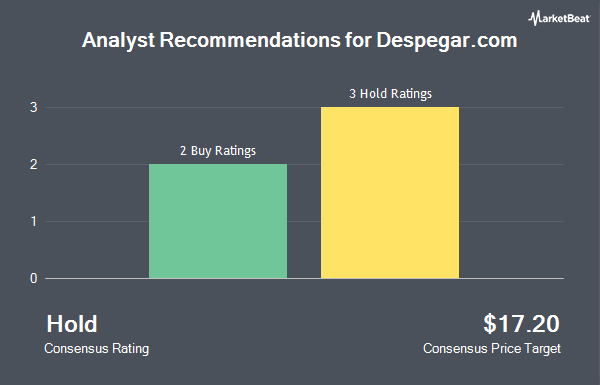 Receive News & Ratings for Despegar.com Daily - Enter your email address below to receive a concise daily summary of the latest news and analysts' ratings for Despegar.com and related companies with MarketBeat.com's FREE daily email newsletter.