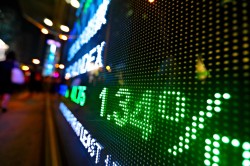 Shares of Chesterfield Resources PLC (LON:CHF) traded down 2.9% on Friday . The company traded as low as GBX 3.40 ($0.04) and last traded at GBX 3.35 ($0.04), 406,250 shares changed hands during mid-day trading. The stock had previously closed at GBX 3.45 ($0.05).
The stock has a 50 day moving average of GBX 3.62 and a two-hundred day moving average of GBX 4.11. The firm has a market capitalization of $2.08 million and a P/E ratio of -3.35.
Chesterfield Resources Company Profile (LON:CHF)
Chesterfield Resources plc does not have significant operations. It intends to acquire a company, business, or asset with operations in the non-ferrous exchange traded metals mining sector in Europe. The company was incorporated in 2017 and is based in London, the United Kingdom.
Featured Story: What is a Real Estate Investment Trust (REIT)?
Receive News & Ratings for Chesterfield Resources Daily - Enter your email address below to receive a concise daily summary of the latest news and analysts' ratings for Chesterfield Resources and related companies with MarketBeat.com's FREE daily email newsletter.